The platform for the implementation of
Pay-per-Use
As-a-Service
solutions
Findustrial is the central data management point for all stakeholders: Asset manufacturers, asset users and financing partners.
Use our independent platform for the project management of your assets. Calculate your quotes for new investments with our different pay-per-use calculators.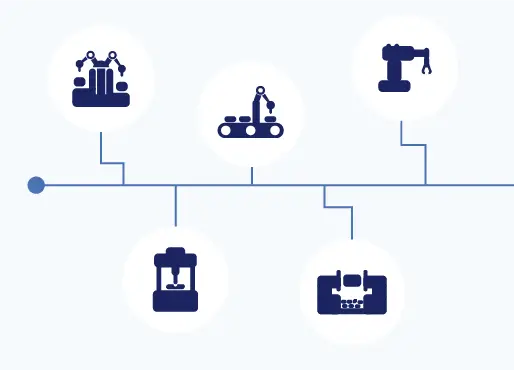 Your assets in the form of machines, plants or entire systems are connected to Findustrial. This enables transparent generation of data based on workload and productivity in real time.
The generated asset data is secured in our cloud. We guarantee maximum data sovereignty and data security in accordance with the Data Protection Regulation (DSGVO) and other national and European laws and regulations.
The usage-based data is available to our customers and is visualized for billing purposes.
For optimal utilization, data is displayed in user-friendly dashboards.
Fast and easy pay-per-use simulations
Our financing calculator calculates your individual pay-per-use project in no time at all.
Choose from various financing models such as PPU leasing, PPU credit and more. Enter your data such as the funding amount and utilization of the asset. You can also choose between flexible term or flexible residual value. This way, your calculation is fully customized to your needs and provides you with the information you need.
The next step? You can submit a financing request directly from this simulation.
Fast service offer for your customers
Equipment-as-a-Service Calculator
Fast, easy and personalized with our EaaS calculator.
Select your billing model, the included services and after entering the relevant data such as utilization, min and max values, etc., you will immediately receive a clear calculation.
Term, costs and expected repayment rates immediately at a glance. Use it to create a personalized offer for your customers or save the calculation to revise it later if necessary.
Your offers immediately "Print-Ready"
Convince your customers – with just one click.
Easily create a flyer for your customers from your calculation. Your stored logo and product image are automatically placed on a flyer together with the calculation and you can download, send or print it directly.
We handle the transparent processing
All projects are billed directly via the platform.
Thanks to the data connection, we directly take care of the automatic forwarding to all project participants as an interface. Invoices are accessible and viewable for you at any time. You can download them directly from the project area and also keep track of them yourself.
Clear evaluations made easy
We also take care of the IoT connectivity of your asset. Data security and data quality have top priority for us in order to provide the data permanently in real time and with the highest level of security.

The result: a full-featured and user-friendly overview of your connected assets.
Would you like to see for yourself?
No problem! Get started today with your 14-day trial
Experience all the great features and benefits first hand, with no obligations. Start your demo today and discover how our pay-per-use and as-a-service platform can help your business.
Absolute data security thanks to blockchain technology
Data security is one of our primary goals.